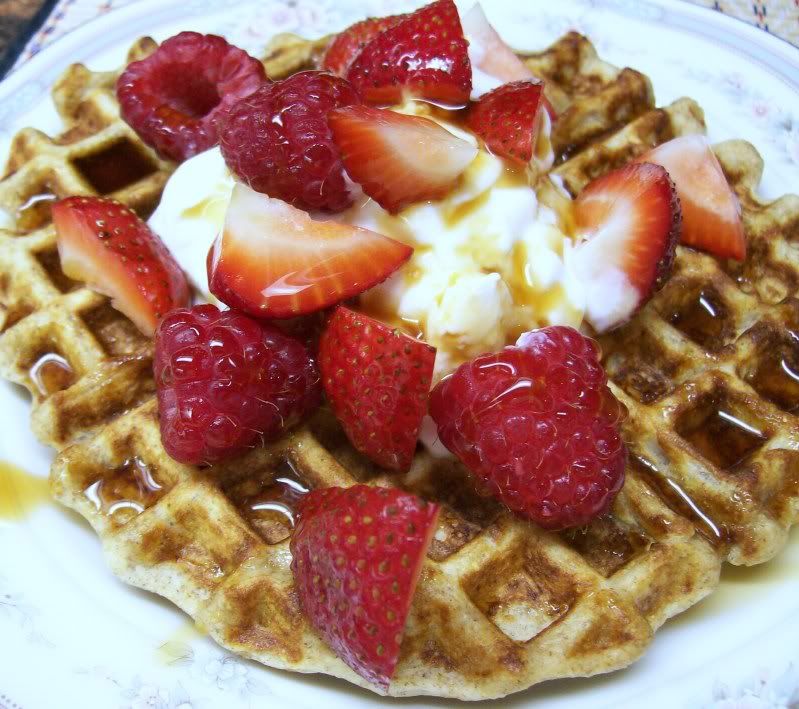 Print the recipe.
Ingredients
1 egg white
1 tbsp. (5 grams) Whey protein (Vanilla)
2 tbsp. (15 grams ) Rolled Oats (ground in a coffee grinder)
1/2 tbsp. (5 grams ) whole Flaxseeds (ground in a coffee grinder)
3 tbsp. (45 grams) Whipped (or small curd) 1%-fat Cottage cheese
1 tbsp. fresh citrus juice (orange/ lemon/ lime/ grapefruit)
a pinch (1/8 tsp.) of fresh citrus zest
Equipment:
cooking spray, waffle maker, electric mixer (or food processor), coffee grinder
Preparation
1. Preheat the waffle maker.
2. Grind oats and flax seeds in a coffee grinder till it makes fine powder.
3. If using a mixer, beat up together egg white, citrus juice and zest and protein powder. Add cottage cheese and mix well. Add ground oats and flaxseed and mix.
If using a food processor, put all the ingredients and mix well, scrapping sides of the bowl with spatula.
4. Spray non-stick spay on waffle maker. Pour the batter and cook for 5 minutes.
5. Serve immediately. Garnish with Greek yogurt, honey and fresh fruits.
_______
Nutritional info
: 1 serving (1 waffle)
* Calories: 175
* Fat: 3.6g Carbs: 13g (fiber: 2.5g) Protein: 22g