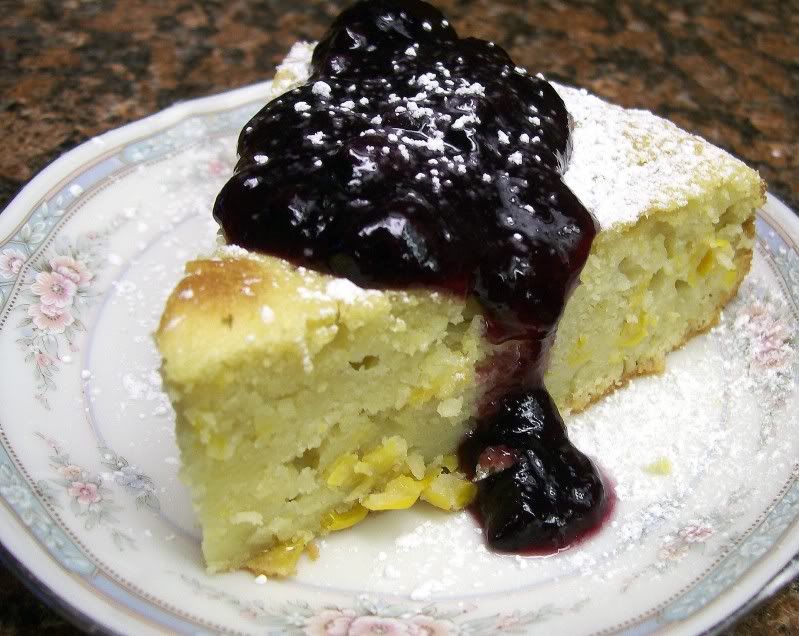 Unsalted Butter, 4 Tbsp, melted
Olive Oil, Extra Virgin (or vegetable oil), 3 tbsp
Sugar, 3/4 cup
Vanilla Extract, 1 tsp
Eggs, 2 fresh
Sweet Corn Cream Style, No Salt Added, 1 can (1 3/4 cup)
Flour, all-purpose, 1 1/2 cup
Baking Powder, 1 tsp
Salt, 1/4 tsp
1. Preheat oven to 350F. Grease 8" cake pan.
2. In a small bowl, sift flour, baking powder and salt. Set aside.
3. In a large bowl, beat up melted butter, oil, sugar and vanilla. Add eggs and whip until light and fluffy. Add creamed corn and mix till well combined. Add flour and mix until just combined.
4. Pour batter into prepared pan and bake for 50-60 minutes until a toothpick inserted in the center comes out clean.
Let the cake cool. Serve at room temperature with fruit preserves, whipped cream, honey or maple syrup..
Nutritional info per 1/8 cake
: makes 8 servings
* Fat: 12g Carbs: 43g (fiber: 1.5g) Protein: 5g