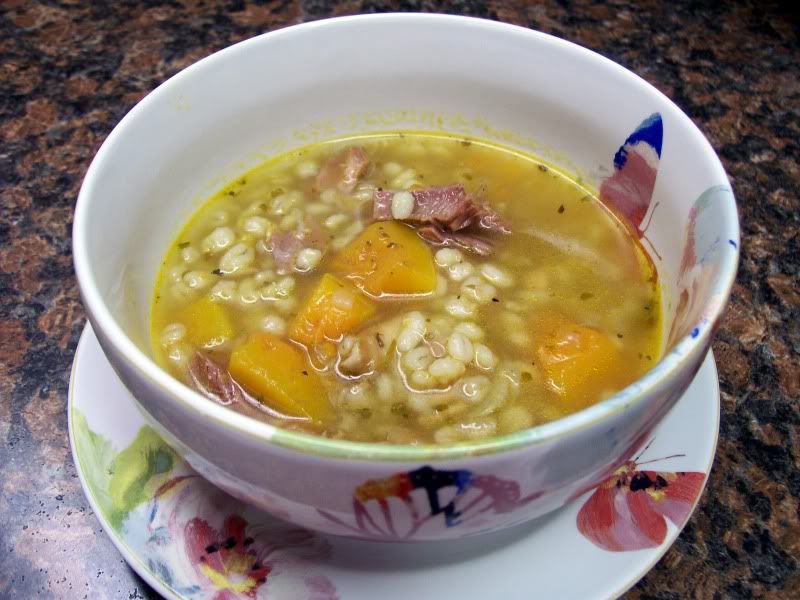 Ingredients:
1/2 cup barley, dry (+2 cups of water for cooking)
2 Turkey legs, cooked, cut into bite-size pieces
1 tablespoon olive oil
1/2 large onion, chopped
2 cloves garlic, minced
1/2 small butternut squash, fresh, cut into pieces
1 tablespoon tomato paste
Salt and ground pepper
1/4 teaspoon dried oregano
1 cans (14.5 ounces) reduced-sodium beef broth
2-3 cups of water
2-3 tablespoon chopped fresh parsley for garnish
Preparation
1. In a small pot, put dry barley and water and cook it for 30 minutes. Drain the water, rinse barley.
2. Meanwhile, clean the turkey meat of bone, cut it into pieces. Clean and cut butternut squash. Chop onion and mince garlic.
3. In a pot, heat olive oil. Add onion and garlic and cook for 1-2 minutes. Add butternut squash and cook for 5 minutes stirring often. Add turkey, oregano, salt, pepper and tomato paste. Mix everything and cook for half a minute or so.
Add cooked barley, chicken broth and 2-3 cups water; bring to a boil. Reduce heat; simmer, partially covered, for 15 minutes. Add more water to thin soup, as needed. Season with more salt and pepper, if necessary.
4. Ladle into bowls; sprinkle with parsley or any fresh herbs.
_______
Nutritional info per 1.5 cup
: makes 6 servings
* Calories: 167
* Fat: 5g Carbs: 17g (fiber: 3.6g) Protein: 13g