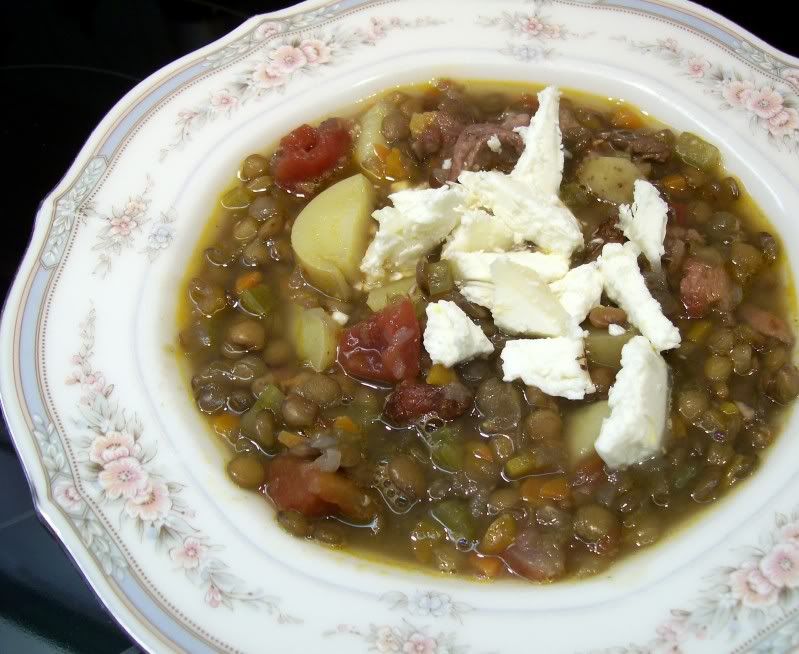 Print the recipe.
Ingredients
Smoked turkey leg and breast, cooked, skin and bones removed, 6-8oz
Olive Oil, 1 tbsp
Garlic, 2 cloves, chopped
Carrots, raw, 1/2 medium (2oz), chopped
Celery, raw, 1 large stalk, chopped
Onions, raw, 1/2 large, chopped
Bay Leaf, 2 whole
Pepper, black, ground, 1/2 tsp
Diced Tomatoes, 1 can, 15oz, with the juice
Chicken Broth 99% Fat Free, 2 cups (1 15oz-can)
Lentils, dry, 1 cup
Water, 4-6 cups
Potatoes, raw, 1/2 cup (5oz) cut in pieces
** Goat cheese or Parmesan for garnish (optional)


Preparation
1. Cut smoked turkey meat into bite-sizes. Chop garlic, onion, celery and carrot.
2. Heat olive oil in a pot, reduce the heat to medium-high and cook chopped vegetables till tender, 5-7 minutes.
3. Open canned tomatoes and broth.
4. Add ground black pepper, tomatoes, turkey, chicken broth and water into the pot. Mix very easy.
5. Add dry lentils. Stir them in.
6. Cook the soup at very low heat partly covered for 40 minutes till the lentils are done.
7. Cut the potatoes. Add them to the soup and cook it for 10-15 more minutes till the potatoes are done.
8. Serve right away, garnished with goat cheese or Parmesan.