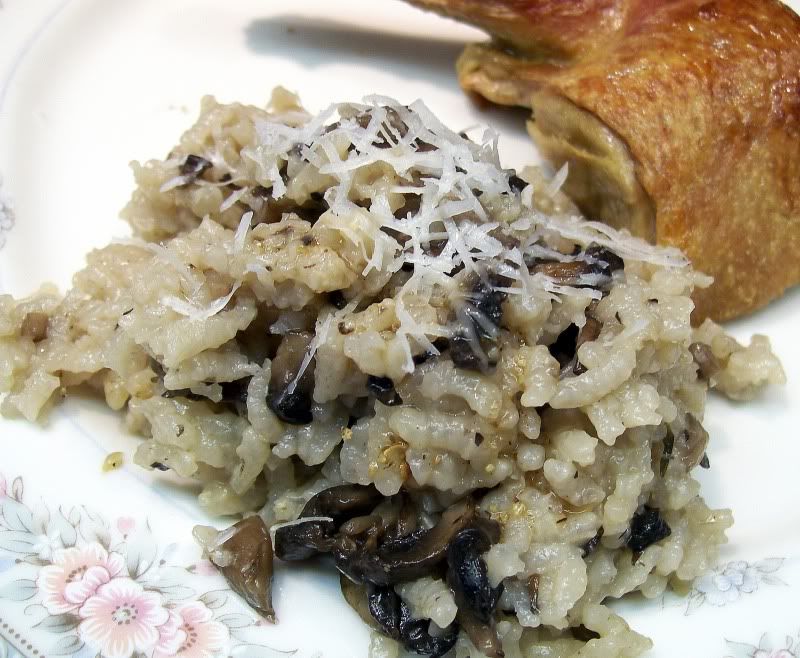 Ingredients:
Portabella Mushrooms, 1 large (130-150g), cut into 1/8"-pieces
Olive Oil, 1 tbsp
Garlic, 1 clove (minced)
Rosemary, 1/4 tsp (chopped)
Onions, raw, 1/4 large (chopped)
White Wine, 2 fl oz (remove)
Arborio / Risotto Rice (uncooked), 1/2 cup
Water, tap, 1/2 cup (4 fl oz)
Chicken Broth 99% Fat Free,

low

sodium

, 14oz can (2 cups)
Pecorino Romano Cheese, 2 tbsp (finely shredded)
Equipment:
1 or 2 clay pots with lids (or baking dish)
Cooking Instructions:
1. Preheat oven to 400F.
2. Mince garlic clove through press. Chop rosemary and
onion
. Cut mushroom into small pieces.
3. Heat olive oil in a frying pan. Add garlic and onion and cook for 1 minute. Add rosemary and mushrooms and cook uncovered for 5-10 minutes till there is no liquid in frying pan and mushrooms got light brown.
4. Add white wine and cook for 30 seconds. Add uncooked arborio rice. Mix well.
5. Add rice-mushroom mixture into clay pot (or devide it between two) or any other kind of baking dish. Pour chicken broth and water. Cover with lid.
6. Bake for 25 minutes in the oven.
7. Take it out of the oven. Fluff with folk and add freshly grated
cheese
. Mix again and serve immediately.
_______
Nutritional info per 1 cup: Makes 2 cups
* Calories: 293
* Fat: 8g Carbs: 45g (fiber: 1.5g) Protein: 8g